Mourning During Labor
Denise Bolds, MSW CD(DONA) November 12, 2017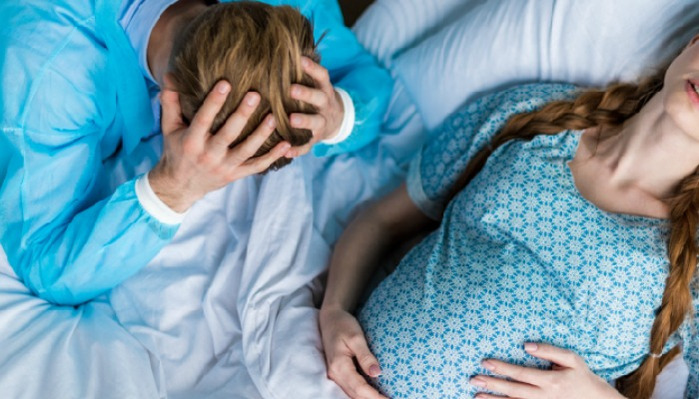 I am always fortunate to have amazing clients whom always teach me something new in my doula practice. Awhile ago, I had a client who was a VBAC getting ready to give birth to her second child. My client comes from an affluent lifestyle; her first born son is 2 and a half years old. Her VBAC successful, her birthing room was filled with family celebrating the birth; however the mother was not celebrating the birth of her beautiful baby girl. In fact, her demeanor was one of anticlimactic, bordering upon disinterest. It was evident something was amiss.
This mother was despondent over the change in her routine with her first born son now that her newborn daughter had made her arrival. For over two years this mother focused all of her mothering upon one child; there was a routine, a lap, a hug for her first born. With the birth of her second child, this mother did not process the addition of another child entering her life. Many parents of multiple children express anxiety over affection, routine and family structure.
This mother hired support so she could try and maintain the routines she and her firstborn had before her daughter was born. She became frustrated and anxious; she was the perfect candidate for mental health support from a provider who specializes in post-partum issues, including managing siblings. Luckily this mother was receptive to receiving the support.
Fast forward 18 months later. Another client, Kathleen was giving birth for the second time. Her first born son is two years old. During Kathleen's labor, she began crying to the point where it evolved into hysterical sobbing. Kathleen's hysteria had nothing to do with her labor, in fact, her hysteria was so pronounced, it shut down her labor.
I immediately stepped in to find out what was happening. John, Kathleen's husband tried to console her to no avail. Before leaving the house, Kathleen forgot to kiss her sleeping son good bye. John did his best to rationalize with Kathleen; her sudden bleeding in her labor resulted in the couple rushing to the hospital with a potential emergency. Kathleen did not accept this reasoning; she continued to sob about how much she loves her son; she forgot to kiss him and touch him for the 'last time.'
I remembered my client of 18 months prior; I knew what Kathleen was experiencing; she needed validation if we were going to move forward in the current birth. I went to Kathleen and I explained that I understood how she was feeling; I validated her, I saved space for her to mourn the loss of having an only child. I validated this mother's anxiety with a simple statement: "Your lap and your heart are big enough for two." Kathleen is an only child. She hugged me breathing a sigh relief. I was able to identify what Kathleen could not immediately express.
As doulas, we are on the front line witnessing what our clients experience. As part of prenatal support having a conversation about parenting multiple children and having a resource of mental health specializing in maternal health is very beneficial. Having this topic as part of the doula prenatal intake is something to consider in empowering your client and the family.
Here are some tips for the client and the growing family:
Have a sibling visit at the hospital.
Have a gift for the older child.
Have a 'celebration' of the newborn's birthday.
Have the eldest child be a helper to the newborn sibling.
At home, set aside 'Mommy & Me' time with the oldest child while the newborn is with dad/mommy/partner.
Find a job in the home that the eldest sibling and Mommy can do together like setting the table for dinner or getting the mail from the mailbox.
Identifying and saving space for our clients when they cannot fully understand their own feelings brings trust and empowerment that affects the family as a unit. Many parents experience anxiety of having enough emotional resources, time and energy in parenting multiple children. This can be especially evident if the parents themselves are from single child families.
Kathleen and John used some of my suggestions from above; Kathleen is both empowered and confident in her motherhood of her two boys. Post partum, she sent me a lovely thank you gift and card commemorating the space I held for her in her labor where she mourned before giving birth.